Contains a variety of active essences and patented formulas.
In addition to removing dark circles and eye bags, it also improves wrinkles and fine lines.
It can smooth the lines of the eye area and make the skin of the eyes become firm and delicate.
The eyes are the windows of the soul, but the window is very fragile.
Smile and even brow wrinkles, will make your eyes loose and eye bags and eye lines.
Become a goddess of attractive eyes,
[APRIL 22 Skin Energy Perfecting Eye Mask] is all you need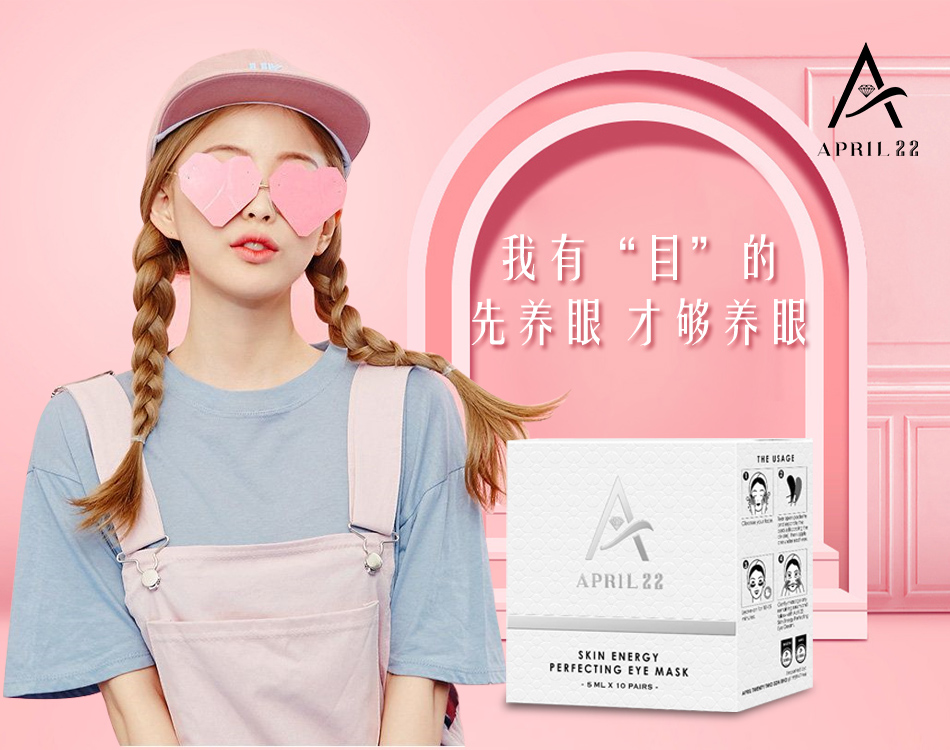 About our pure plant essence patent formula: AQP Free
Improve skin moisture content, increase aquaporin AQP3 expression, inhibit hyaluronidase activity, reduce skin water loss, instant, long-term smoothing of fine lines and swarf.
Using the same film as the Estee Lauder eye mask – the world's finest nanofibers of 0.0007mm,
Japanese imports are more uniform and softer.
And it is its superior strength and softness, Give your eyes a luxurious enjoyment.
Main ingredients: Dendrobium Candidum extract, Sophora Flavescent extract, Saccharomyces cerevisiae extract, Sodium hyaluronate
, extract of Jingjing, millet pepper and fruit extract, pomelo fruit extract, purple Echinacea extract, licorice root extract, chrysanthemum extract, Aloe Vera leaf extract, etc.
Benefits:
Smooth fine lines, fight slack, improve eye bags,
Moisturizes dry lines, diminishes dark circles, relieves edema
♥♥♥